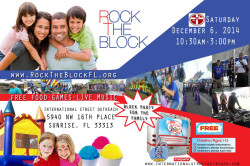 Rock The Block Florida is an non-profit Evangelistic outreach ministry. Rock The Block  is Impacting communities for a better tomorrow. Transforming your World one Soul at a Time.
What we do is partner with several local churches, ministries, and organizations and go into inner cities and have Live Music, Free food, Huge Kid Zone, Blood mobile and of course the word of God. We basically take the church which is the body of Christ to the people. Our goal is not to entertain it is to bring Salvation to the lost and dying.
We partner with several local Rap, Hip Hop artist (Christian music only), gospel, and Praise & Worship teams and we get to see miracle after miracle.
We do not charge for any of our outreaches, conferences and events. The Gospel of Jesus Christ is FREE and we want to bring Hope to the hopeless. Depending who we partner with we give free hair cuts, bags of groceries, blood pressure test, back to school supplies and we have the famous PB & J puppet Ministry directed by Ruth and David Dones.
When you give 100% goes directly to the work of the ministry. An average outreach cost $1,200 to $3,000, average conference cost $1,000 to $1,500 and mission trips cost an average of $4,000 to $6,000 . All love gifts are tax deductible.
God bless you
Look for us in your city, check our calendar
Stay connected with us join our email list or follow us on Facebook